Fancy a fancy table? Then let's take a look at some the different types of designer tables you can get.
A desk is meant to represent a sense of power and elegance, but how do you achieve that if you're after a modern look? By getting this 50,000 year old table in your study. The wood top is made from the oldest wood in the world, but don't go thinking that some ancient trees were felled for the sake of making a good looking table. The wood used is from a swamp where trees that naturally had been felled millennia ago that somehow preserved in the mucky swamp. Having this table is akin to having a fossil for a desk.
Tables don't necessarily have to be the defining feature of the room, but this Prism table would definitely district anyone from watching TV. View it from any angle and you'll get a perfect representation of what a refraction of light is like and it's even more impressive when you realise the prism you're looking at is made from a series of coloured string arranged in a very specific manner.
If you're someone who panics at spilling anything on a table, or not having enough coasters at hand, the Oak Sofa Table might be an illusion you won't be able to deal with. The two pieces of oak creating the base are intricately balanced to make for a table that is much sturdier than it appears to be as first, second and third glance. We like to think it resembles a table held together by two fortune cookies, and will bring nothing but good luck to any room.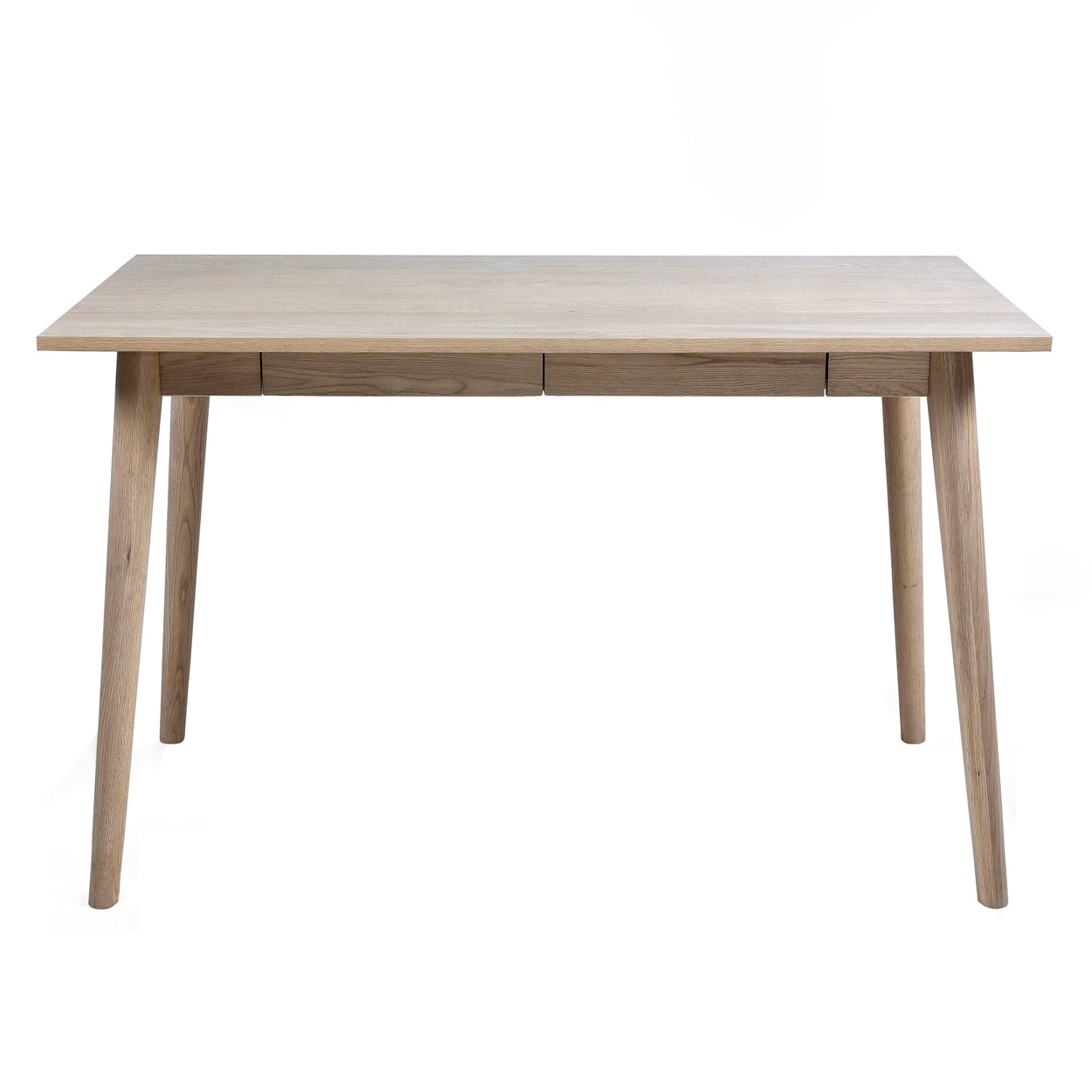 Sometimes being fancy doesn't have to mean being flashy though. This is a Marley work desk that has a minimal and contemporary look. Retailing at £480 in the UK, this desk (although you can get it cheaper with a Debenhams discount) as a lacquered oak finish and is perfect for a home office where it can can the abuse of laptop scratches, a few spilled cups of coffee and a crayon or two.
Have cats in your home, but want to maintain a high level of design without sacrificing space for a cat post? This quirky table is just what you need. Simply name CATtable, the entire interior is punctuated with holes and a labyrinth like design that will have any cat rummaging through while you sit down to eat, drink or work. And don't worry if you think a cat can get trapped or lost as any hole has a clear view through to the other side of the table.
Finding furniture that has sustainability and an environmentally friendly function in mind is hard to find. This table though does a fantastic job of fixing this problem with a designed table constructed form materials that would otherwise be rendered useless. The Consola table is made from very smooth packed wood and is 'held' together by elasticated rope that runs through the top and bottom, giving the impression that is stitched together.
If you are on a budget and looking to buy on mass, have you ever considered second hand furniture? With companies now putting in the hours to re-furbish furniture in an attempt to have a positive impact our planet, depending on what your outlook is on protecting the earth- this might be suited to your purchase. If you are situated in the UK, companies such as Gazelle sell used office furniture. The photo above shows the great job which they do on their re-furbishing jobs. Would you have any idea that this desk had been used before? We certainly wouldn't. This is the perfect if you are looking to curate the perfect office without breaking the bank.